SPONSORED
What is Edible Collagen And Why You Should Include It In Your Beauty Regime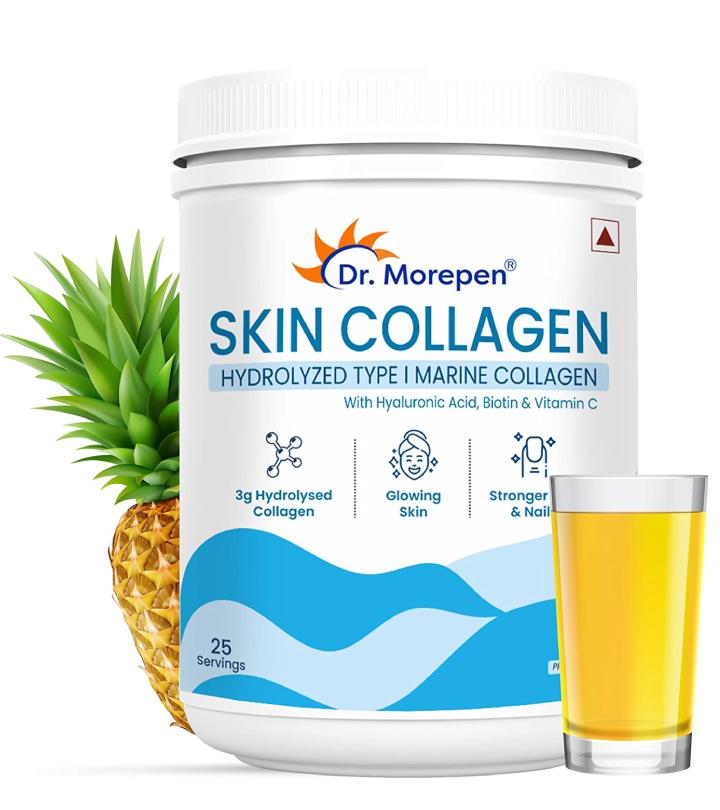 Collagen is a natural protein found in the body and is responsible for keeping your skin smooth, dewy, and firm. However, as a person ages, collagen production in the human body starts decreasing, leading to deterioration in skin health. The loss of collagen leads to fine lines, wrinkles, fragile hair, brittle nails, and other issues, which is not very comforting. The good news is that it is possible to replace this collagen with external sources.
There is a variety of natural sources of collagen, too, like chicken, fish, egg whites, citrus fruits, berries, leafy greens, etc., that boost collagen production, but our body produces less collagen as we age and breaks the existing at a faster rate, so it becomes important to replenish it with collagen supplements. However, before we get into edible collagen and its contribution to the skin, let's look at skin collagen benefits.
Collagen – How And Why Is It Important
Collagen is an insoluble fibrous protein and the main constituent of skin's connective tissues, tendons, cartilage, and bones. It helps keep skin firm and improves elasticity. This structural component is constantly in the process of remodeling and has high levels of elasticity. To put it more simply, this protein is formed naturally in our bodies and ensures that our skin stays firm and youthful. After many studies emerged about the innumerable benefits of collagen, more and more people are looking for ways to boost their skin health (1).
Some like to take the natural route of having a healthy diet with essential collagen-building proteins and supplements, while others take the artificial route with injectable fillers. Clinical trials report that dermal fillers may not have the desired effect as collagen replacements eventually wear down, and the injection process has to be repeated multiple times (2). There are many skincare or cosmetic products in the market with collagen content that can be applied topically or directed to the skin. However, drinkable or orally-consumable collagen is a more effective way of repairing the body's connective tissues.
Edible Collagen And Its Impact On Skin Care
Many beneficiary titles are given to collagen, one of the primary ones being an excellent anti-aging protein. Of all the methods to improve collagen levels, edible collagen is quite loved due to its ease of intake and reliable effectiveness. As this component is naturally present in nails, skin, and hair, consuming edible collagen can help reduce signs of aging and leave skin looking firm and glowy. Edible collagen is produced in different forms like chewables, drinks, and powders.
Oral collagen supplements, such as hydrolyzed marine collagen protein Type 1, have taken the beauty industry by storm. The marine species are widely considered rich sources of collagen content as they do not promote or cause transmissible diseases. In addition, using marine biomass is also known to promote a sustainable process for the extraction of collagen, which translates into less impact on the environment (3).
If you're looking to introduce a collagen supplement to your beauty regime, take a look at Dr. Morepen's Skin Collagen-Hydrolyzed Type 1 Marine Collagen, which is one of the leading collagen supplements in the market right now.
A great collagen for glowing skin, it contains a clinically-proven formula that helps fight visible signs of aging. This advanced formula contains a unique blend of scientifically-made Hydrolyzed Type 1 Marine Collagen, Biotin, Hyaluronic acid, vitamin E, and vitamin C that helps combat graying of hair, prevents breakage of nails, hair fall, wrinkly, dull skin, and gives structure to skin, bones, tendons and ligaments. It also helps stimulate the skin cells and form a protective barrier and retain skin's moisture to prevent wrinkles and fine lines. This collagen also offers protection against UV rays to avoid degradation of skin cells and blemishes and helps improve skin's elasticity.
Infused with biotin, this hydrolyzed type 1 marine collagen makes hair look shiny and also shows a visible reduction in hair loss due to a boost in keratin production. The vitamin E content helps reduce hair-follicle damage, while the hydrolyzed collagen improves hair texture, prevents hair breakage, and boosts hair health. These nutrients are also crucial drivers of stronger and shinier nails.
It doesn't stop there. Dr. Morepen's Skin Collagen is proven to have high absorption rates and is easily digestible. As it contains the hydrolyzed form of collagen protein ( means broken down into small particles), it can absorb up to 1.5 times faster than other forms of collagen. Hence, it is also light on the gut. Since this formula is made for health-conscious consumers of today, it has no added sugar and is enriched with a delicious pineapple flavor that is Stevia-Sweetened. In addition, the product is gluten-free, dairy-free, and made with non-GMO protein.
Regular intake of this skin collagen supplement will result in glowing skin, shiny nails, healthy hair, and stronger bones, joints, and muscles. All you need to do is put one level scoop in 100-120ml of water, mix thoroughly, and drink it. Consult the doctor before including oral or edible collagen in your beauty regime, especially if you are lactating or pregnant or have any medical condition. Dr. Morepen's Skin Collagen is meant for both men and women but may be the best collagen for women's health out there.
The following two tabs change content below.