10 Indian Celebrities And Their Favorite Hairstyles
Take your inspo from these celeb hairstyles, so you do not have to settle for the basics.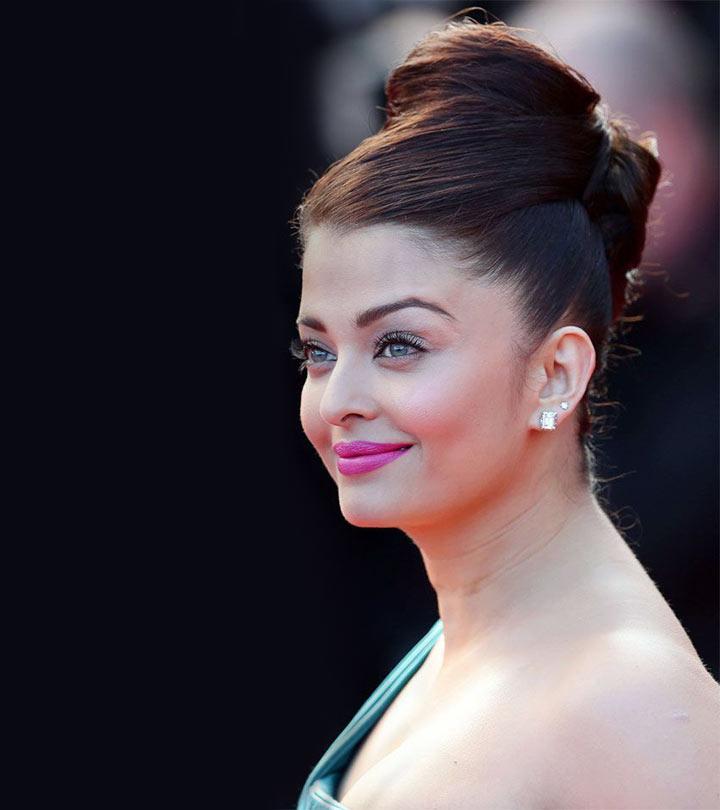 Here are some of the favorite hairstyles of Bollywood actresses who are recognized by these snatched looks and deliver that charming signature personality.
Of course, all celebs love experimenting with different hairstyles and outfits, but there are a few favorites that they love to flaunt and make them stand out at some point. If you are getting bored of having the same hairstyle, try taking notes from these brilliant actors with layers, bobs, curls, waves, and any length, you name it.
You do not have to engage in OTT routines to get these simple looks. Whether it is Priyanka's love for volume or Kangana's beautiful curls, find your favorite one below!
Here are some inspirational Indian celebrity hairstyles that you can check out:
Before You Get Started
Updos are an excellent way to open up your face. Aishwarya Rai's updos, curls, and side-swept look suit her round-oval face. They enhance her prominent cheekbones, full lips, and her gorgeous eyes.
Priyanka Chopra's beachy waves done on layered hair are suitable for all face shapes. Use texturizing sprays to add depth and movement to these looks.
Puffy crowns like those of Deepika Padukone and Preity Zinta can add length to round and square faces. Use a holding spray to keep the style in place.
Heat protection, proper moisturization, and scalp care are essential measures for nailing high-profile celebrity hairstyles.
10 Indian Celebrities And Their Favorite Hairstyles
1. Taapsee Pannu
Tapsee Pannu is blessed with a full head of voluminous, bouncy curls. She doesn't believe in over-exposing her hair to harmful heat or chemical treatments and thus, loose hair and simple ponies and buns are her go-to looks. She usually sports side-parted looks which complement her face beautifully.
2. Soha Ali Khan
Soha Ali Khan is a natural beauty and she knows it. She has revealed in interviews how she isn't big on following trends and loves a natural look. When not on-screen, she prefers to let her hair down. On busy or bad hair days, she simply likes to tie her hair up in a quick ponytail or a classic messy bun.
3. Aishwarya Rai
Whether it's loose curls, straight hairstyles or side-swept bangs, everything looks great on former Miss India and now Mrs. Bachchan, Aishwraya Rai. She can carry contemporary as well as traditional hairdos with super ease. She has been recently flaunting her voluminous layers. You can replicate this veteran's look by simply getting a layer cut and tong the layers to create volume.
4. Katrina Kaif
Golden girl of Indian film industry also called the "Bollywood Barbie Doll" Katrina Kaif loves playing around with her mane and trying out unique and trendy Indian hairstyles that not only suit her features but also go with her character's role. This is why she is spotted with a new hairstyle and fresh look in almost every movie. The hairstyles Katrina Kaif usually wears are wavy, layered, straight, ponytail or clip light curly hairstyles.
5. Priyanka Chopra
Priyanka Chopra, one of the most breathtaking beauties of the Indian entertainment industry, changes her hair as often as she does her dresses. Priyanka has been very creative with her hairstyles and has experimented with virtually all hairstyles from pixie little bob to shoulder blade length hairstyles as well as straight loose curls. However, whatever hairstyle she adopts stunningly complements her facial features and always ends up adding to her natural beauty.
Did You Know?
Priyanka Chopra Jonas' iconic hairdo of razor-cut layers in 'Dostana' is ideal for all face shapes and hair colors in India.
6. Deepika Padukone
Deepika Padukone is widely admired because of her beauty and hair besides her terrific performances! It was her looks coupled with her performance that earned her the Filmfare Best Female Debut Award in 2007 for her role in Om Shanti Om. As a rule, Deepika doesn't experiment with her hair simply because she knows what truly works for her. There was a momentary period when Deepika had worn a fringe, but eventually she stuck to her poker straight layers. The way she flaunts her hair, however, is simply adorable. Check out her looks
7. Kangna Ranaut
Beautiful Kangna Ranaut abandoned her natural "wild mop" and went for a smoother and pulled back look for a while, but recently she was spotted with the mop again! The "Pulled-back" look, however, also suits her equally.
8. Sonakshi Sinha
Sonakshi Sinha basically loves to keep her hair straight or in basic waves. Presently she wears poker straight hair and we must say it looks really good on her. Just like her cuts and styles, Sonakshi doesn't experiment with her hair color too much.
9. Rani Mukherjee
Another in the list of famous Bollywood divas, Rani Mukherjee is also known for her looks and personality besides her talent. She mostly wears straight long hair and her signature look really makes her stand out among all the Indian celebrities everywhere and at every occasion. To replicate her signature look you simply need to slightly layer, blow dry and straighten your hair with a straightening flat iron and you're done. You may also want to style a bun or pull your hair into a ponytail.
10. Preity Zinta
Pretty and cute like her name, Preity Zinta, is also a well-liked showbiz personality in India and across the globe. Speaking of her hair, Preity has tried almost every hairstyle from long to short plus everything in between and from straight to curly. Whichever hairstyle she wears, it manages to fabulously bring out her attractive features, making her look even prettier and stunning. Currently the bubbly actress is flaunting straight, long hairstyles, sometimes left loose and sometimes tied up in the form of a bun.
Did You Know?
Preity Zinta inspired her fans with a short symmetrical bob cut in 'Dil Hai Tumhara' and a pixie cut on curly hair in 'Lakshya.'
Our favorite Bollywood celebs have favorites of their own when it comes to hairstyles. You will find Aishwarya flaunting layers on her thick luscious tresses or Priyanka showcasing her lovely textured waves. But looking to these celebs for hair inspo has another benefit. Most of us pick hairstyles based on how similar our face shape is to a certain celebrity. So, if you and your favorite celeb have the same face shape, you can mimic their hairstyles as they will flaunt your face shape to perfection. So, pick a celeb with your face shape and try to notice a trend in the hairstyles they regularly flaunt. Try these hairstyles out for yourself. Now you look like a diva, without the help of a hairstylist!
Frequently Asked Questions
Which actress has the thickest hair in Bollywood?
Shilpa Shetty is an actress in Bollywood who has the thickest hair.
Who has the longest hair among Bollywood actresses?
Malaika Arora and Sonakshi Sinha are Bollywood actresses with long hair.
The following two tabs change content below.